When it comes to maintaining your in-motion scale system, the people at Cardinal Scale are dedicated to providing world class service.
Installation Services
Cardinal offers company-trained field technicians who can deliver your scale to the job site and complete the installation and calibration quickly and efficiently.  Our service vehicle is equipped with a trailer that brings to the site all of the tools needed for the installation.  Our technicians have been certified by Kistler for the installation of their LINEAS® quartz sensors.  If you've chosen a SWIM series load cell in-motion scale, Cardinal's nationwide network of authorized Cardinal dealers can perform the installation and calibration for you.
Support Services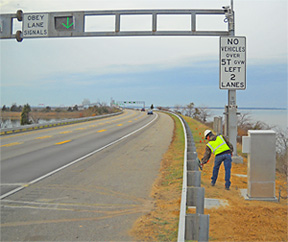 We don't quit when the installation is finished.  Cardinal maintains a staff of qualified service technicians to provide telephone support should you have a question or encounter a problem.  We can even monitor and test your equipment remotely (must have an Internet connection) without ever having to come to the site.  In fact, most problems are resolved through remote access to your scale.  If we can't resolve your problem remotely, then we can come to the site to perform any needed on-site repairs.
Calibration Services
Of course, your scale is only as good as its calibration and that's why Cardinal offers calibration services for our in-motion scale installations.  Using our network of authorized Cardinal dealers, we provide a test truck with certified test weights to use for calibrating our scales.  After making multiple runs across the in-motion scale, we carefully adjust the scale calibration to minimize the error and present you with a final calibration report.  Cardinal recommends that you check the calibration of your scale twice a year to ensure that it remains at its peak performance.
Extended Maintenance Services
After your warranty expires, you may wish to take advantage of extended maintenance services designed to protect your investment.  These services can be custom tailored to your exact needs to include everything from simple inspections to comprehensive maintenance and repair programs.